The Authentic
– Spiced Coffee –
Although the coffee is not an originally product form Mexico. With its arrival to Mexican soil and over time it has become
a signature Mexican drink
and very popular at the Mexican homes.

The spiced coffee is a delight and not only for its taste but also for its aroma as it is a coffee with sweet flavor that is prepared with various
spices.
Its flavor is so Mexican that is said that it is
a coffee that tastes and smells like Mexico
.

The spiced coffee
history
tells that it was born in the revolutionary fires. The "soldaderas" (women who helped in the revolution) prepared during the night a
drink
made with coffee and water, to which they added cinnamon sticks, cloves and it was sweetened with piloncillo. As a final touch chocolate was added to give
strength
and
energy
to their soldiers.

As the years went by the Revolution came to an end and the spiced coffee became part of the Mexican homes as a hot, typical and delicious drink; ideal to accompany with cookies,
bread
or a
dessert.
About the Recipe
This coffee is very easy to make, you only have to mix and boil ingredients – that's it.
The spiced coffee can be prepared with the coffee that you like the most however the best option is to use a tasty Mexican coffee like the one of Chiapas.
We recommend using a coffee that is not too ground so it will be easier to strain.
The spiced coffee is sweetened with piloncillo but if you don't get it 1/4 cup of brown sugar (2.2 oz) can also be used.
The coffee will be ready in
The recipe is for 5 cups of coffee.
Ingredients
6 tablespoons of ground Coffee
2 Cinnamon branches (.2 oz)
2 Cloves
1/2 Orange peel (.1 oz)
1 Piloncillo cone (1.5 oz)
Cookware
1 Saucepan
1 Pitcher
1 Measuring Cup
1 Kitchen Spoon
1 Strainer
1 Knife
Directions
Prepare the Base
Discard the pith of 1/2 orange peel. Upon completion put the orange peel in a saucepan.
Also add in the saucepan:
2 Cinnamon branches.
2 Cloves.
1 Piloncillo cone.
6 cups of Water (1.5 qts).
| | | |
| --- | --- | --- |
| | If you want to try the original spiced coffee, as it was prepared at the time of the Revolution. In this moment add 1/2 chocolate tablet (1.5 oz). | |
Bring the saucepan water to a boil over high heat.
When it boils reduce to medium heat and cook the mixture for about 5 minutes, until the piloncillo has dissolved; stir occasionally.
Prepare the Coffee
When the piloncillo has dissolve reduce to low heat and add in the saucepan 6 tablespoons of ground coffee.
Mix the saucepan ingredients and leave the spiced coffee cooking for 5 minutes, so the flavors mix.
| | | |
| --- | --- | --- |
| | The coffee must not boil because its flavor becomes bitter. | |
Strain over a pitcher the spiced coffee.
Enjoy It with your Amigos!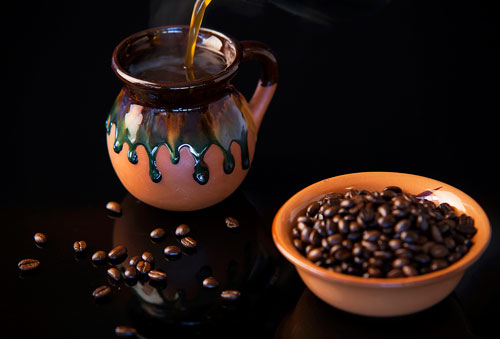 Recommendation:
Add 1 pinch of ground
cardamom
to the spiced coffee to
aromatize it
and to give it a
more spiced
point.

Suggestion:
If you have clay cups, use them to serve the spiced coffee since it will look very Mexican.

Tweet
Did you like the Spiced Coffee?
More Typical Mexican Recipes
✿
Mexican Rice
✿
Pot Beans
✿
Fried Plantains
✿
Melted Cheese
✿
Green Chilaquiles