Home >> Appetizers >>
Melted Cheese with
"Chorizo and Mushrooms"
When this dish is
served
on the table normally the melted cheese is so hot that it is still
"bubbling"
. At the moment of seeing the
cheese
mixed with the
chorizo
and the
mushrooms
; one feels impatient of trying that
extraordinary combination of ingredients
.
In this dish
interesting things happen
, because
cheese's
fresh flavor is combined with
mushrooms'
soft flavor (which complement perfectly well). But also
chorizo's
spicy and condimented flavor comes into place which gives
another dimension
to the dish.
This dish is normally served as an
entree dish.
Although it is
so big, so abundant and so nutritious
that it can be served as a
main course
.
– The melted cheese is also served with
tortillas
so you can enjoy it in the shape of
tacos
or in the shape of
quesadillas.
About the Recipe
This recipe is not complicated only the chorizo and the mushrooms have to be fried and then everything goes into the oven.
It is Very Important to use a cheese that melts, like the Chihuahua cheese or the Monterey Jack cheese.
If you have a "small clay cazuela", use it to serve the melted cheese it will look beautiful.
Would you like to prepare homemade chorizo?
Preparation time . Recipe for 6 cheese tacos.
Ingredients
5.2 oz of Cheese that Melts
1.7 oz of Chorizo
1.7 oz of Mushrooms (champignons)
Cookware
1 Skillet
1 Griddle
1 Baking Dish
1 Chopping Board
1 Turner
1 Tortilla Container
1 Grater
1 Knife
Directions
The Chorizo and The Mushrooms
Chop 1.7 oz of chorizo into small chunks, then reserve.
Clean 1.7 oz of mushrooms and cut them into strips.
Put the mushrooms and the chorizo in a skillet over medium-high heat and fry them for about 4 minutes, until the chorizo is cooked; stir regularly. Then set aside.
| | | |
| --- | --- | --- |
| | To fry the chorizo and the mushrooms oil is not used, because chorizo's own fat acts as an oil. | |
The Cheese
Preheat the oven to 350º F.
Grate 5.2 oz of cheese that melts and put it in a baking dish. Also put over the cheese the chorizo and the mushrooms that were cooked.
| | | |
| --- | --- | --- |
| | Grated cheese is used because it melts faster and the melted cheese acquires a better consistency. | |
Put the baking dish in the oven for about 10 - 15 minutes, until the cheese has totally melted and the surface has lightly browned.
The Tortillas
Heat on a griddle over medium heat 6 flour tortillas on both sides.
Put the tortillas in a tortilla container and serve the melted cheese with chorizo and mushrooms.
~Try this Delight~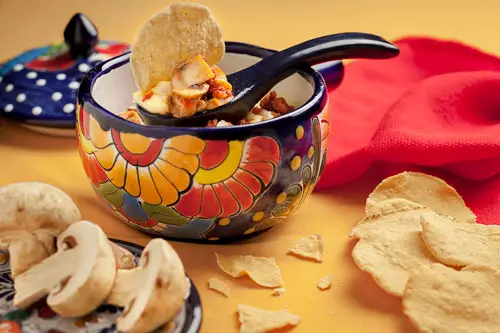 .
...