Home >> Appetizers >>
The Classical
"Quesadillas"
The quesadillas are more than a recipe...
they are a Mexican classical
. Possibly one of the most popular dishes that can be found in the Mexican
cuisine.


The word quesadilla is a derivation of the word queso (cheese) and that's the way they have been called since the XVIII century. The recipe is extremely simply as it only consists of a corn tortilla folded in half with melted cheese in the middle. Although with this recipe you will prove that
in simplicity there is also a great flavor
.

It's believed that the quesadillas are just an appetizer but they really are an
everything
. They can be eaten at
breakfast
time, lunch, dinner, as a snack and of course as an
appetizer
also. It always is a good moment to enjoy some quesadillas.

The quesadillas also admit any type of accompaniment like:
beans
,
salsas
,
dips
,
rice
,
beef
, etc.
About the Recipe
This recipe is super easy to make, ideal for beginners that are looking for a great flavor.
The quesadillas can be prepared with Chihuahua cheese, Oaxaca cheese, Manchego cheese, etc. The point is to use a cheese that melts.
Do you want your quesadillas to taste exquisite... prepare your own corn tortillas.
Preparation time .
Recipe for 6 quesadillas.
Ingredients
5.2 oz of Cheese that Melts
6 Corn Tortillas
Cookware
1 Griddle
1 Chopping Board
1 Turner
1 Knife
Directions
Cut into strips 5.2 oz of cheese that melts, then reserve.
Heat on a griddle over medium heat 6 maize tortillas for about 20 seconds per each side, until they are soft.
Put on each tortilla some of the cheese strips that were cut.
Fold in half all the tortillas that were put on the griddle.
Heat the quesadillas for approximately 1½ minutes per each side, until the cheese has melted.
| | | |
| --- | --- | --- |
| | While the quesadillas are heated they can be pressed gently so the cheese melts better. | |
Enjoy!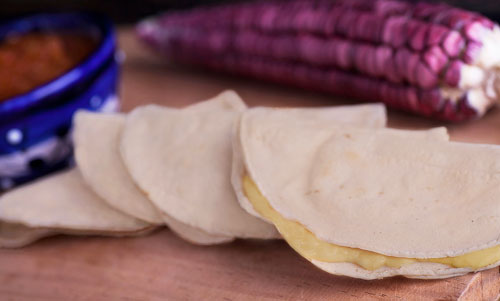 Suggestion:
In Mexico it has become a tradition to eat quesadillas with
salsa
, in fact there is
no quesadilla that is eaten without salsa
. So put your favorite salsa.

Tip:
Prepare some quesadillas with
blue tortilla
and feel the difference.

Variation:
Transform your quesadillas in...
sincronizadas.
Tweet
Did you like the Quesadillas?
More Recipes that you will Like
⌖
Cucumber Salad
⌖
Corn Soup
⌖
Grilled Steak
⌖
Enchiladas
⌖
Cecina