Home >> Appetizers >>
The Best
Refried Beans
The beans are so abundant in Mexico, that there are many recipes with beans within the Mexican
cuisine.
Although none of these recipes is as famous nor as versatile as the refried beans.

This dish has mashed beans (similar to the consistency of a puree), which
are fried so they acquire more flavor
. As a final touch they are garnished with crumbled cheese and tortilla chips; which makes them look magnificent – and its flavor is so good that you will want to eat them at every time of the day.

The refried beans have infinite applications. They can be served
plain
as
antojito
or
accompanying
a wide variety of dishes like:
chilaquiles
,
quesadillas
,
ranch style eggs
,
grilled steak
,
enchiladas
, etc. They are also used as
base
in sopes,
tostadas
,
burritos
, gorditas, molletes, memelas, etc.
About the Recipe
In this recipe you will work with some ingredients, then the beans are fried and at the end they are garnished. Definitely an easy to make recipe.
To prepare the refried beans cooked beans are needed. We recommend making the pot beans recipe previously and then use them in this recipe.
The traditional recipe is prepared with lard however if you want it can be substituted for 2 tablespoons of oil (vegetable or olive).
The refried beans are normally prepared with pinto, bayo or black beans.
The preparation time is of .
This recipe serves 4 portions.
Ingredients
2 cups of Whole Cooked Beans with a little Broth (14.1 oz)
1/4 of an Onion (1.2 oz)
3 tablespoons of Lard
1/2 teaspoon of Salt
Crumbled Cotija Cheese to taste (optional)
Tortilla Chips to taste (optional)
Cookware
1 Saucepan
1 Chopping Board
1 Bean Masher
1 Turner
1 Knife
Directions
Fry the Onion and the Beans
Finely chop 1/4 of an onion, then set aside.
Heat in a saucepan over medium heat 3 tablespoons of lard.
Put in the saucepan the onion that was minced and fry it for approximately 1 minute, until it looks a bit transparent; stir regularly.
Incorporate in the saucepan:
2 cups of Whole Cooked Beans with a little Broth.
1/2 teaspoon of Salt.
Mash with a bean masher the saucepan ingredients, until having the consistency of a puree.
Fry the beans for about 5 minutes, until they are moderately fried and thick; stir constantly.
Garnish the Refried Beans
When the refried beans are served you can sprinkle over them some crumbled cotija cheese.
You can also insert in the refried beans some tortilla chips.
Such Good Beans!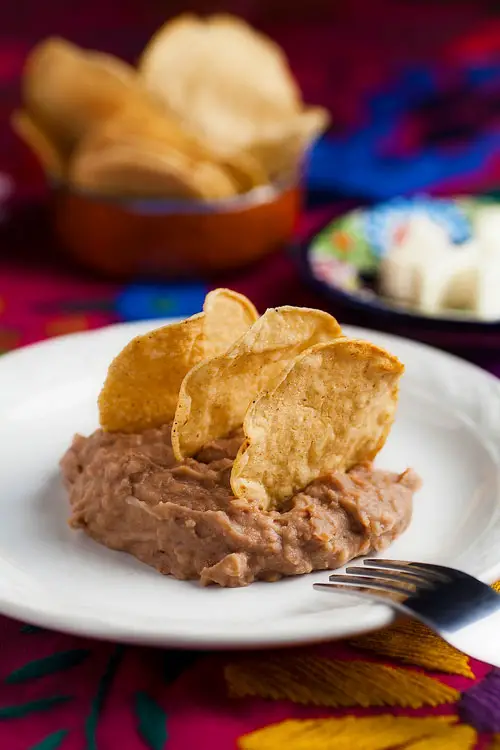 Tip:
The refried beans can be
frozen
, without any problem and in this way you will always have them available.

Suggestion:
If you liked the consistency of these beans get ready for the
cream of bean soup.
Variation:
Another way of preparing beans –
charro beans.
Tweet
Did you like the Refried Beans?
More Mexican Antojitos
⌭
Mexican Rice
⌭
Devil Shrimps
⌭
Quesadillas
⌭
Crab Tostada
⌭
Melted Cheese