Mexican Recipe of
Grilled Steak
The gilled steak is a very popular recipe that is prepared all around the world. This recipe is
very diverse
because in every region of the world is prepared in a different way, each culture gives their special touch.

...and as it can be expected in Mexico we also have our version of the grilled steak.
The Mexicans prepare it by marinating it in a type of juice, that gives the beef an indescribable flavor
. It really is a very Mexican touch the one the beef acquires and you have to taste it.

In order for your grilled steak dish that it doesn't only have the authentic Mexican flavor but it also looks very Mexican; one or various of the following garnishes can be put like:
fought chilies
,
guacamole
,
refried beans
,
red rice
,
pickled onions
,
nopal cactus salad
, etc.
About the Recipe
To make the grilled steak you only have to marinate the beef and then fry it. A recipe that anyone can make.
As a good Mexican recipe it has a point of hotness with a chipotle pepper in adobo, which can be bought canned or it can be prepared at home.
This recipe can be prepared in a roaster on your backyard.
In Mexico thin cuts are used to prepare the grilled steak, we recommend them.
The total preparation time is of . However while the beef is marinated (2 hours) you won't work in the recipe.
The recipe is for 4 persons.
Ingredients
1.1 lbs of Beef Fillets
5 Limes (5.2 oz)
1 Chipotle Pepper in Adobo (.3 oz)
4 Garlic cloves (.5 oz)
1/2 teaspoon of Cumin
1/2 teaspoon of Oregano
1/4 cup of Soy Sauce (2.1 fl oz)
3 tablespoons of Olive Oil
1/2 tablespoon of Pepper
1/4 tablespoon of Salt
Cookware
1 Frying Pan
1 Food Container with Lid
1 Bowl
1 Chopping Board
1 Turner
1 Mixing Spatula
1 Knife
1 Lime Squeezer (optional)
Directions
Marinate the Beef
Finely chop 1 chipotle pepper in adobo and 4 garlic cloves; upon completion pass them to a bowl.
Also add in the bowl:
The juice of 5 Limes.
1/2 teaspoon of Cumin.
1/2 teaspoon of Oregano.
1/4 cup of Soy Sauce.
1/2 tablespoon of Pepper.
1/4 tablespoon of Salt.
Mix very well the bowl ingredients with a mixing spatula, then set aside.
Clean 1.1 lbs of beef fillets.
Put in a food container the beef fillets that were cleaned and pour over them the mixture that was prepared in the bowl.
Cover the food container, put it in the fridge and leave the beef marinating for 2 hours, so the flavors mix.
| | | |
| --- | --- | --- |
| | It is important to marinade the beef covered because the fridge temperature may dry it. | |
Fry the Beef
Take from the fridge the beef fillets that were left marinating and reserve.
Heat in a frying pan over medium-high heat 1 tablespoon of olive oil.
Put in the frying pan the beef fillets that were marinated (just the ones that fit in) and fry them for about 2 minutes per each side, until they are well cooked or to the level of doneness that you like the most; then serve them.
Repeat the same procedure with the beef fillets that were not fried, it will be necessary to add in the frying pan more olive oil.
Enjoy Your Grilled Steak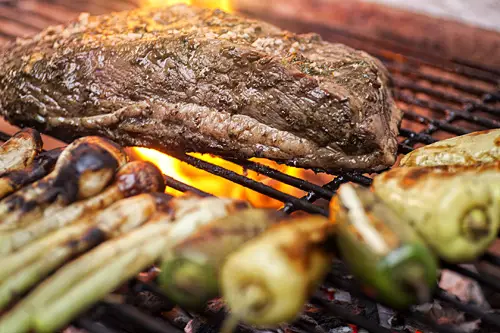 *
When there is grilled steak on the
table
there also has to be
corn tortillas.
Variation:
Now try the beef fillets in its version of
steak with onions.
Tweet
Did you like the Grilled Steak?
Cook More Mexican Recipes
✣
Melted Cheese with Chorizo
✣
Charro Beans
✣
Spicy Cecina
✣
Chicken in Adobo
✣
Pork Ribs in Green Sauce