Home >> Salsas and Dips >>
Fought Chilies
These chilies are the perfect touch to gladden a simple cheese sandwich or to give a point of flavor to some tasty
beef
tacos.
Whenever you want to give a strong and spicy flavor to a dish – don't forget to turn to the fought chilies.

The beauty about this recipe is that not only chilies will be found in the salsa bowl...
they are also accompanied with fried onions and a magical juice that is used to season them
. You will love all this combination.

The use of the word "fought" to name this recipe is
strange
. But the reason for which this name was assigned is because in the past before cutting and frying the chilies they were rubbed against any surface with the hands.

This makes that
the oil from the seeds distributes to the chili, causing it to be even more spicy
. Possibly this action resembles to make a bull angry.

*If you want to add this step to the preparation, we recommend that you do it with a rag or with gloves; so your hands don't get burned.
About the Recipe
This recipe is prepared with few ingredients, with few utensils and it is easy to make.
When the chilies are fried they release a very strong smell. If you want to wear a medical face mask it's a very good idea.
In this recipe the serrano pepper is used but it could be substituted for jalapeno pepper so the salsa becomes a little more spicy. Just make sure of having 8.8 oz of jalapeno peppers.
The recipe is given with olive oil because it gives more flavor to the chilies although a type of vegetable oil could also be used.
In less than the fought chilies will be ready.
This recipe is for 2 cups.
Ingredients
20 Serrano Peppers (8.8 oz)
2 Limes (2.1 oz)
1 Onion (7 oz)
4 tablespoons of Worcestershire salsa
4 tablespoons of Maggi seasoning
1½ tablespoons of Olive Oil
1/2 tablespoon of Salt
Cookware
1 Frying Pan
1 Bowl
1 Chopping Board
1 Turner
1 Mixing Spatula
1 Knife
1 Lime Squeezer (optional)
Directions
Cut 20 serrano peppers lengthwise, then put them in a bowl and reserve.
| | | |
| --- | --- | --- |
| | If you want your fought chilies with a lower degree of hotness, discard the seeds and veins of the serrano peppers.. | |
Cut 1 onion into strips, then pass them to the bowl.
Also add in the bowl:
The juice of 2 Limes.
4 tablespoons of Worcestershire salsa.
4 tablespoons of Maggi seasoning.
1/2 tablespoon of Salt.
Mix very well the bowl ingredients with a mixing spatula, then set aside.
Heat in a frying pan over medium heat 1½ tablespoons of olive oil.
Incorporate in the frying pan all the bowl ingredients and fry them for about 3 minutes, until the chilies are well fried; stir regularly.
Braves as Bulls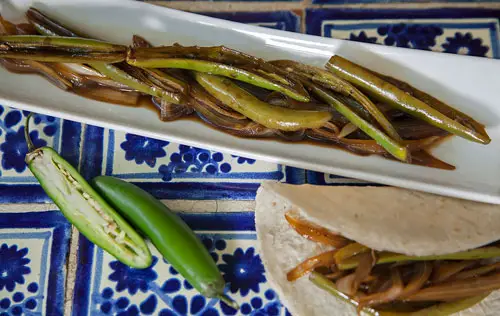 Recommendation:
Try the fought chilies with some
tacos al pastor
and feel the
difference
.

Variation:
If you liked the flavor and the hotness of the serrano peppers, now try them in the
chili macho salsa.
Tweet
Did you like the Chilies?
The Mexican Soups
✱
Corn Soup
✱
Cream of Bean Soup
✱
Lima Soup
✱
White Menudo
✱
Tlalpeno Soup