Tacos al Carbon
This is an excellent dish for those who are just getting to know the Mexican food because the delicious and unbeatable flavor of these
tacos
encourages people to ask for more Mexican food – involving them in the world of Mexican flavors.

The tacos al carbon are very famous in Mexico and in all the taquerias.
They consist of diced beef, to which coriander and onion is put
.
Green salsa
,
red salsa
,
chipotle pepper salsa
or your favorite
salsa
can be put to these tacos – they can also be accompanied with roasted spring onions or roasted nopals.

If you want to have the
experience
of a typical taqueria meal you can start with a
melted cheese with chorizo and peppers
then some
charro beans
, your tacos al carbon and finally a
rice pudding
– oh and for drink an
horchata water.
About the Recipe
To make the tacos al carbon only some ingredients have to be chopped then the beef is fried and at the end the tacos are assembled. A recipe that anyone can make.
As it can be imagined the tacos al carbon are prepared in a roaster. If you have the possibility of preparing them in this way is perfect. If you don't have a roaster, don't worry because they can also be prepared in a frying pan.
With regard to the meat that is needed, we recommend buying beef sirloin and preferably ask for thin fillets.
The total preparation time is of .
The recipe is for 10 tacos al carbon.
Ingredients
1.1 lbs of Beef Fillets
10 Maize Tortillas (7 oz)
2 Limes (2.1 oz)
1/2 Onion (2.4 oz)
3 Coriander sprigs (1 oz)
2 tablespoons of Olive Oil
Pepper to taste
1 tablespoon of Salt
Cookware
1 Frying Pan
1 Griddle
1 Chopping Board
1 Turner
1 Knife
1 Ramekin
Directions
| | | |
| --- | --- | --- |
| | If you are going to prepare the beef in the roaster, this is the time of turning it on since the coals take time to heat up. | |
Chop Ingredients
Cut 2 limes into wedges, upon completion put them in a ramekin and reserve.
Dice 1/2 onion, then reserve.
Finely chop 3 coriander sprigs, then set aside.
Cook the Beef
Clean 1.1 lbs of beef fillets and sprinkle over both sides of the fillets pepper to taste and 1 tablespoon of salt; then set aside.
| | | |
| --- | --- | --- |
| | In this moment the roaster must be ready to put the beef. | |
Heat in a frying pan over medium heat 1 tablespoon of olive oil.
Incorporate in the frying pan the beef fillets that were cleaned (the ones that fit in) and fry them for about 2 minutes per each side, until they are well cooked or to the level of doneness that you like the most.
Transfer from the frying pan to a chopping board the fillets that were cooked and reserve.
Repeat the same procedure with the fillets that were not fried, it will be necessary to add more olive oil.
Dice all the fillets that were cooked, then set aside.
Make the Tacos
Heat on a griddle over medium heat 10 corn tortillas for about 30 seconds per each side, until they are well heated.
Remove from the griddle the tortillas and put on each one:
Some of the Beef dices that were cooked.
Some of the Onion dices that were cut.
Some of the Coriander that was minced.
Take the tacos al carbon to the table, along with the ramekin where the limes were put.
Some Delicious Tacos!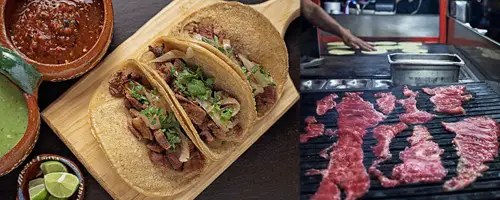 Tip:
It is very funny but in Mexico these tacos are served with
double tortilla
in case that some beef falls while eating, you can always make another taco.

Variation:
Taste the tacos with crispy tortillas and with beef as protagonist with the
fried beef tacos.
Tweet
Did you like the Tacos al Carbon?
Other Mexican Recipes
❂
Blue Tortilla
❂
Achiote Paste
❂
Chorizo
❂
Caramel Custard
❂
Spiced Coffee