Home >> Salsas and Dips >>
The Traditional
"Green Salsa"
This is a salsa that you have to prepare, you have to try and you have to experience to feel the true flavor of the authentic Mexican food.

– The seasoning of this salsa identifies perfectly well the Mexican
cuisine
with
its flavors that are spicy, fresh, sour and a slight sweetness
. All this in the same salsa.

The green salsa is a salsa that is present on all the tables where typical Mexican food is served – it is like the salt and
pepper
of the Mexicans. What the Mexicans do is
add it
on their dishes to give them more flavor, it also makes the food not to taste as dry.

Although this is not the only function of the salsa it is also used to cook dishes like the
enchiladas
,
chilaquiles
,
pork ribs in green salsa
, divorced eggs, pork rinds in green salsa, etc.
About the Recipe
This salsa is perfect for beginners because only some ingredients have to be cooked and then blend everything – that easy.
The green salsa has tomatillos. When you buy them select the ones that are greener and harder, this indicates that they are ripe.
The recipe is given with 1 jalapeno pepper however if you want a spicier salsa more jalapeno peppers can be used – under your own risk.
In the salsa will be ready.
This recipe yields 2 cups of salsa.
Ingredients
12 Tomatillos (17.6 oz)
1 Jalapeno Pepper (.5 oz)
1/4 of an Onion (2.1 oz)
1 Garlic clove (.1 oz)
5 Coriander sprigs (1.7 oz)
Pepper to taste
1/4 tablespoon of Salt
Cookware
1 Saucepan
1 Blender
1 Bowl
1 Cutting Board
1 Kitchen Spoon
1 Mixing Spatula
1 Knife
Directions
Cook some Ingredients
Finely chop 2 coriander sprigs (.7 oz), then reserve.
Put in a saucepan:
12 Tomatillos.
1 Jalapeno Pepper.
The enough Water to cover all the ingredients.
Bring the saucepan water to a boil over high heat.
Leave the ingredients cooking in the boiling water for about 5 minutes, until the tomatillos turn to a lighter color.
| | | |
| --- | --- | --- |
| | Don't cook the tomatillos for a long time because its skin breaks and its flavor becomes bitter ☹ | |
Transfer from the saucepan to a blender, with a kitchen spoon, the ingredients that were cooked.
Blend the Ingredients
Also add in the blender, along with the other ingredients:
1/4 of an Onion.
1 Garlic clove.
3 Coriander sprigs (1 oz).
Pepper to taste.
1/4 tablespoon of Salt.
Blend very well the ingredients.
Pour in a bowl the mixture that was blended and add the coriander that was minced.
Mix very well the green salsa with a mixing spatula.
Put Green Salsa
To Everything!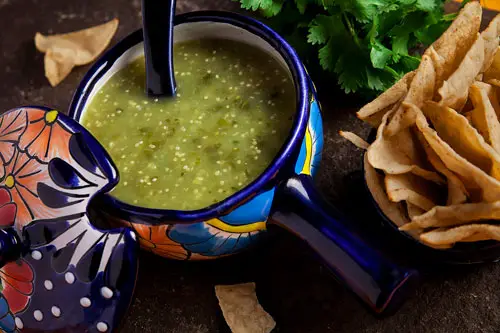 Suggestions:
Try this salsa with
tortilla chips
or
accompanying
some delicious
squash blossom quesadillas.
Variation:
If you want the green salsa to be fresher, transform it into
green salsa with avocado.
Tweet
Did you like the Green Salsa?
More Mexican Recipes
⊱
Peasant Rice
⊱
Crab Tostada
⊱
Melted Cheese with Mushrooms
⊱
Machaca with Egg
⊱
Shredded Chicken Salad