A Fresh
"Chicken Salpicon"
The salpicon is a
mixture
of various ingredients, generally with a meat (
beef
, chicken,
fish
or shellfish) that are also
dressed
. This dish is eaten cold in the form of a salad and its objective is to produce a wide variety of flavors, colors and textures.

This salpicon is prepared with onion, chili, tomato, avocado, garlic and many more ingredients... and of course that our main ingredient is the chicken. In a short time
you will have on your table a party of colors
and you will enjoy flavors that are fresh, elaborated and some sweet notes.

– On a summer day when you don't want to eat a hot main course, this is the dish you should go to. It can also be served as a nutritious snack over
tortilla chips
or
tostadas.
About the Recipe
This salad is very easy to make, only the chicken has to be cooked and many ingredients are mixed.
The recipe is given with 1 serrano pepper to give more flavor to the salad, however if you don't like spicy food it can be omitted.
This salad is also prepared with lettuce and we recommend buying romaine lettuce because it is crispy and it has a slight bitter touch, that combines very good with the other ingredients.
Preferably use extra virgin olive oil so your salpicon will have the best flavor.
The salpicon will be ready in .
Recipe for 5 persons.
Ingredients
2 Chicken Breasts (15.8 oz)
2 Avocados (17.6 oz)
2 Tomatoes (14.1 oz)
1 Serrano Pepper (.4 oz)
1 Lime (1 oz)
1/2 Lettuce (7 oz)
1 Onion (5.2 oz)
1 Garlic clove (.1 oz)
1 Coriander sprig (.3 oz)
2 tablespoons of Extra Virgin Olive Oil
Pepper to taste
1¼ tablespoons of Salt
Cookware
1 Saucepan with Lid
2 Bowls
1 Chopping Board
1 Balloon Whisk or Fork
1 Kitchen Spoon
1 Mixing Spatula
1 Knife
1 Lime Squeezer (optional)
Directions
Cook the Chicken
Clean 2 chicken breasts and put them in a saucepan.
Also add in the saucepan:
1/2 Onion (2.6 oz).
1 Garlic clove.
The enough Water to cover the chicken breasts.
1 tablespoon of Salt.
Bring the saucepan water to a boil over high heat.
When it boils cover the saucepan and leave the chicken cooking in the boiling water for about 20 minutes, until it is well cooked.
| | | |
| --- | --- | --- |
| | Make sure that the chicken is always covered with water because it will consume. If scum accumulates on the surface remove it. | |
While the Chicken is Ready...
Cut 1/2 lettuce into strips, pass them to a bowl and reserve.
Dice 2 tomatoes, transfer them to the bowl and reserve.
Finely chop 1/2 onion (2.6 oz), 1 serrano pepper and 1 coriander sprig. Upon completion put them in the bowl and reserve.
When the Chicken is about to be Ready...
Put in another bowl:
The juice of 1 Lime.
2 tablespoons of Extra Virgin Olive Oil.
Pepper to taste.
1/4 tablespoon of Salt.
Beat the bowl ingredients with a balloon whisk or with a fork, until they are well integrated; then set aside.
Verify that the chicken that was left cooking is well cooked, its color must be white outside and inside; if not cook it for a longer time.
Take from the saucepan the chicken breasts with a kitchen spoon, wait until they cool a little and shred them; then set aside.
| | | |
| --- | --- | --- |
| | Don't throw away the broth that was obtained from cooking the chicken because it is very tasty and you can use it to prepare a soup. | |
Mix All the Ingredients
Dice 2 avocados and put them in the bowl, where all the ingredients that were cut are.
| | | |
| --- | --- | --- |
| | The avocado has to be cut at the end because it oxidizes quickly and it turns to a darker color. | |
Also add in the same bowl, where all the ingredients that were cut are:
The Chicken Breasts that were shredded.
The Mixture that was beaten in the other bowl.
Mix very well the chicken salpicon with a mixing spatula.
A Salad Full of Color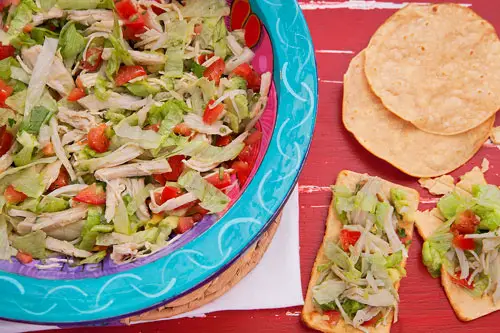 Variation:
Taste
this salad with
beef.
Tweet
Did you like the Shredded Chicken Salad?
⍚
Mexican Bread.
⍚
Mexican Cookbooks.
⍚
Articles about the Mexican Food.
⍚
Mexican Food with Maize.