Home >> Salsas and Dips >>
Green Salsa with Avocado
fresh and spicy
The
green salsa
can be prepared with some variations, but
the best variation is when avocado is added
. The salsa flavor turns fresher, its hotness more subtle and the best part is that the avocado chunks can be tasted while the salsa is enjoyed with a dish.

This salsa is perfect to accompany typical dishes of the Mexican
cuisine
like some
quesadillas with peppers
, some
sincronizadas
, a
peasant rice
or a tasty
grilled steak.


In some parts of Mexico this recipe is also known as tomatillo
guacamole
with tomatillo. Although it is not a very precise name nor appropriate for it – the
tomatillo guacamole
is another
story
.

About the Recipe
It is very easy to make the salsa, you only have to cook and blend some ingredients. Ideal for beginners.
The recipe is given with 1 jalapeno pepper but you can use more and make your salsa more spicy.
If you want a milder salsa discard the veins and seeds of the jalapeno pepper as it is the spicier part of the chili.
The salsa will be ready in .
Recipe for 2 cups of salsa.
Ingredients
12 Tomatillos (1.1 lbs)
1 Avocado (8.8 oz)
1 Jalapeno Pepper (.5 oz)
1/4 of an Onion (1.7 oz)
1 Garlic clove (.1 oz)
5 Coriander sprigs (1.7 oz)
Pepper to taste
1/4 tablespoon of Salt
Cookware
1 Saucepan
1 Blender
1 Bowl
1 Chopping Board
1 Kitchen Spoon
1 Mixing Spatula
1 Knife
Directions
Prepare the Green Salsa
Put in a saucepan:
12 Tomatillos.
1 Jalapeno Pepper.
The enough Water to cover all the ingredients.
Bring the saucepan water to a boil over high heat.
Leave the ingredients cooking in the boiling water for about 5 minutes, until the tomatillos turn to a lighter color.
| | | |
| --- | --- | --- |
| | Don't cook the tomatillos for a long time because its skin breaks and its flavor becomes bitter ☹ | |
Transfer from the saucepan to a blender, with a kitchen spoon, the ingredients that were cooked.
Also add in the blender:
1/4 of an Onion.
1 Garlic clove.
3 Coriander sprigs (1 oz).
Pepper to taste.
1/4 tablespoon of Salt.
Blend very well the ingredients and reserve.
Add the Avocado
Finely chop 2 coriander sprigs (.7 oz), then reserve.
Scoop out the pulp of 1 avocado and put it in the blender, along with the mixture that was blended.
Blend lightly the mixture.
| | | |
| --- | --- | --- |
| | The mixture is lightly blended so small avocado chunks remain and in this was the salsa will have a very special touch. | |
Pour in a bowl the mixture that was blended and add the coriander that was minced.
Mix very well the green salsa with avocado, with a mixing spatula.
Fresh, Delicious and Spicy!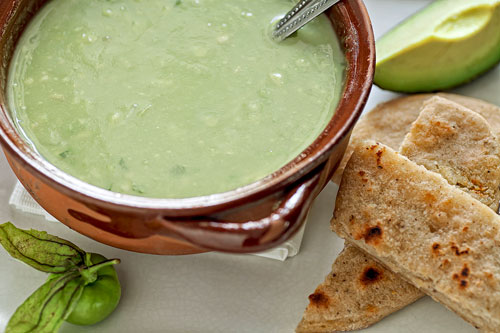 Tip:
With this salsa
a different touch
can be given to a green salsa that was previously prepared, with the simple fact of adding 1 avocado.

Recommendation:
Enjoy this salsa with
tortilla chips
and a refreshing Mexican
beverage.
Tweet
Did you like the Salsa with Avocado?
Prepare More Salsas
⊞
Red Salsa
⊞
Pico de Gallo
⊞
Adobo Salsa
⊞
Chipotle Pepper Salsa
⊞
Mole