Home >> Salsas and Dips >>
The Traditional
Red Salsa
Imagine eating some
quesadillas
or some
sincronizadas
or some
ranch style eggs
– plain – without any condiment, without any seasoning, with nothing. That would be a ver dry and very sad dish... that's why we have "the salsas" that are essential to fill the Mexican food of flavor and color.

The red salsa is a 100% authentic Mexican salsa,
its flavor is condimented, spicy and fresh
. Although the best about this salsa is its intense red color because it makes the dishes look appealing and very Mexican.

This salsa has endless
applications
, it can be used to put to
antojitos
,
tacos
,
tortilla chips
,
tostadas
, etc. It is also used to bath main courses like the
enchiladas
and even to cook dishes like the
pozole.
About the Recipe
To make this salsa first some ingredients are roasted and then all the ingredients are blended – that easy.
This recipe is given with 5 arbol peppers to obtain a moderately spicy salsa. Although the chilies quantity can be adjusted, depending on how spicy you want it.
This salsa is also prepared with other chilies, depending of the Mexican region where it is made. We give the recipe that is most commonly used in Mexico.
If you would like to prepare the red salsa in molcajete, just don't use the blender.
Preparation time .
Recipe for 2 cups of salsa.
Ingredients
5 Arbol Peppers (.5 oz)
3 Tomatoes (15.8 oz)
1/4 of an Onion (1.2 oz)
1 Garlic clove (.1 oz)
1 teaspoon of Oregano
Pepper to taste
1/2 tablespoon of Salt
Cookware
1 Griddle
1 Blender
1 Tongs
Directions
Put on a griddle over medium heat:
5 Arbol Peppers.
3 Tomatoes.
Roast the griddle ingredients for about 2 minutes, until all their sides are moderately roasted; move them regularly with some tongs.
| | | |
| --- | --- | --- |
| | Don't roast the chilies for a long time because its flavor becomes bitter. | |
Transfer from the griddle to a blender, with the tongs, the ingredients that were roasted.
Also add in the blender:
1/4 of an Onion.
1 Garlic clove.
1 teaspoon of Oregano.
Pepper to taste.
1/2 tablespoon of Salt.
Blend very well these ingredients.
An Extraordinary Flavor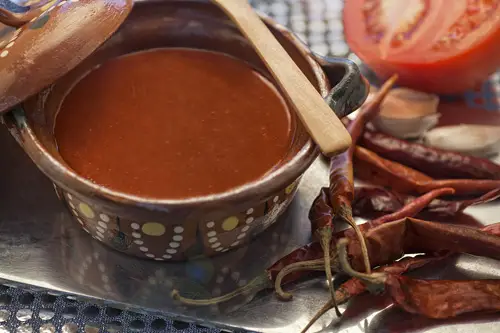 Variation:
Also prepare the
red salsa with morita pepper
, a salsa that is widely used in
taquerias
.

Tweet
Did you like the Red Salsa?
Mexican Food that will go Perfect with your Salsa
᚛
Mexican Rice
᚛
Empanada of Mushrooms with Epazote
᚛
Tostada of Sausage with Potato
᚛
Grilled Steak
᚛
Chicken Tacos