Home >> Appetizers >>
The Sincronizadas
The sincronizadas can be seen as the Mexican version of a "sandwich with tortillas"; or the adorned cousins of the
quesadillas
; as it consists of
2 tortillas that have in between a layer of melted cheese and a ham slice
.

As you can see this is a very simple recipe... but they are very good – and when
salsa
is added to the sincronizadas, its flavor becomes phenomenal.

The
beauty
of the sincronizadas is that they can be eaten at any hour of the day. They can be served as
appetizer
, as
breakfast
and even as a main course.

– In fact you can prepare a pretty and complete plate with a sincronizada accompanied of
refried beans
,
mixed salad
,
guacamole
and Mexican cream.
About the Recipe
This recipe is perfect for beginners, that commence to taste and to know the Mexican food.
To make the sincronizadas a cheese that melts is needed like the Chihuahua cheese, Manchego cheese, Monterey Jack cheese, etc.
Normally the sincronizadas are made with large flour tortillas.
Would you like to prepare flour tortillas to later use them in this recipe?
The sincronizadas will be ready in or less.
Recipe for 3 sincronizadas.
Ingredients
4.2 oz of Cheese that melts
3 Ham slices (3.1 oz)
6 Flour Tortillas (6.3 oz)
Cookware
1 Griddle
1 Chopping Board
1 Turner
1 Knife
Directions
Cut 4.2 oz of cheese that melts into strips, then reserve.
Heat on a griddle over medium heat 6 flour tortillas for about 10 seconds per each side, until they are lightly heated.
Distribute evenly the cheese strips that were cut over 3 tortillas.
Put over the tortillas, where the cheese was put, 1 ham slice.
Place 1 flour tortilla over each ham slice (in total you will put 3 tortillas).
Heat the sincronizadas for approximately 1½ minutes per each side, until the cheese has melted.
| | | |
| --- | --- | --- |
| | While the sincronizadas are heated press them gently, so the cheese melts better. | |
Just Perfect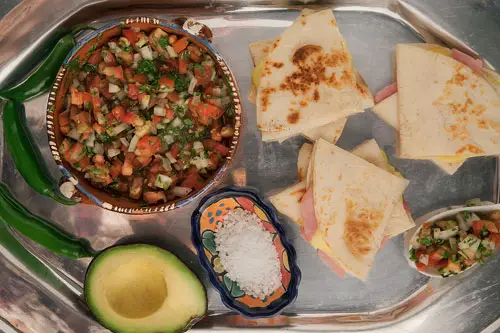 Tip:
If the
tortillas
are too large, you can
serve
the sincronizadas cut into 4 parts.

Recommendation:
You can also put
pico de gallo
to the sincronizadas, is a very good combination.

Tweet
Did you like the Sincronizadas?