Cream of Bean Soup
A Perfect Combination!
The cream of bean soup is a very traditional soup that
has been prepared in Mexico for countless years
. Besides its exquisite flavor, in this recipe a very nutritious dish can be found that all your family will love.

The dish consists of ground beans which are cooked with evaporated milk to give a creamy flavor and a thicker consistency but the best part of the cream of bean soup is the garnish since it is served with cheese, avocado, cream and more ingredients that make it look "very appetizing". Therefore use all your
creativity
when you are garnishing it.

*This cream is not only an excellent
entree dish
it also is a dish that kids love for its soft and sweet flavor.
About the Recipe
Although you have to blend, fry and cook ingredients this cream is easy to make.
For this recipe bayo, pinto or black beans can be used.
The recipe is given with cooked beans which can be bought canned but the flavor won't be that good. It is better to prepare pot beans and the flavor will be excellent.
This cream is garnished with fresh cheese but panela cheese can also be used.
The preparation time of the cream is of .
Serves 6 plates.
Ingredients
1.1 lbs of cooked Beans with Broth
1 Avocado (8.8 oz)
1/4 of an Onion (1.2 oz)
1 Epazote sprig (.3 oz)
1/2 cup of Evaporated Milk (4.2 fl oz)
1/4 cup of Mexican Cream (2 fl oz)
1/4 cup of crumbled Fresh Cheese (1.4 oz)
2 tablespoons of Olive Oil
1/4 tablespoon of Salt
Cookware
1 Saucepan
1 Blender
1 Chopping Board
1 Kitchen Spoon
1 Turner
1 Strainer
1 Knife
Directions
Perform some Activities
Put in a blender 1.1 lbs of cooked beans with broth and blend them very well; then set aside.
Finely chop 1/4 of an onion and reserve.
Heat in a saucepan over medium heat 2 tablespoons of olive oil.
Put in the saucepan the onion that was minced and fry it for approximately 1 minute, until it looks a bit transparent; stir regularly.
Cook the Cream
Add in the saucepan:
Strain the Beans that were blended.
1 Epazote sprig.
1/4 tablespoon of Salt.
Mix the saucepan ingredients.
Bring the saucepan broth to a boil over high heat.
When the broth boils reduce to low heat and add 1/2 cup of evaporated milk.
Mix the saucepan ingredients and cook the cream of bean soup for about 5 minutes, until it thickens a little; stir occasionally.
When the cooking is done discard the epazote sprig and reserve the cream of bean soup.
Garnish the Cream
Dice 1 avocado and reserve.
Serve the cream of bean soup and on each plate put the following ingredients:
Some Mexican Cream.
Some crumbled Fresh Cheese.
Some of the Avocado dices that were cut.
| | | |
| --- | --- | --- |
| | Garnish the cream of bean soup beautiful so it looks very appetizing. | |
A Beautiful Cream!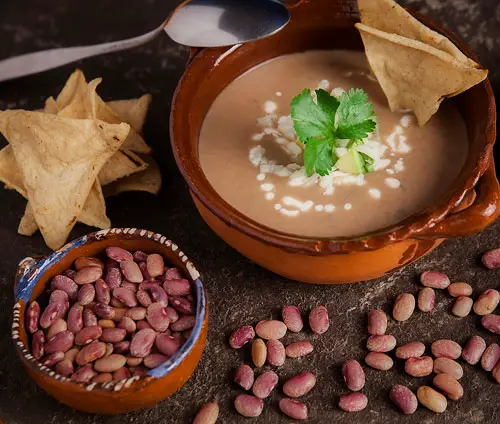 Tip:
If you want
more garnishes
on your cream, put some fried
tortilla
strips.

Recommendation:
For those who like the cream with a spicy point, accompany it with some
chipotle peppers in adobo.
Variation:
This cream can also be prepared in the version of
soup.
Tweet
Did you like the Cream of Bean?
Other Mexican Recipes that you will Adore
➦
Devil Shrimps
➦
Tacos al Pastor
➦
Nopal Cactus Salad
➦
Guacamole
➦
Chicken in Adobo