Home >> Breakfasts >>
"Mexican Style Eggs"
color and flavor
When the name Mexican style eggs is heard, it can be intuited that many colors are going to be in the dish – and you will be totally right. But besides the
color
there's also an interesting
fusion
of flavors, characteristic of the Mexican gastronomy.

This recipe consists of
scrambled eggs that are prepared with chili, onion and tomato
. That's why the name "Mexican style" is given because it has the Mexican flag green (serrano pepper), white (onion) and red (tomato).

With these eggs a very abundant
breakfast
can be prepared accompanied with
refried beans
or
pot beans
or if you want to venture into more flavors with
charro beans
– and as extra
red rice
can also be put on the plate.
About the Recipe
Anyone can prepare the Mexican style eggs as only ingredients have to be chopped and fried. A perfect recipe for beginners.
We give the recipe with 1 serrano pepper however more chilies can be used, if you want some spicier Mexican style eggs.
We recommend using olive oil in this recipe so the dish has a better flavor.
The Mexican style eggs will be ready in maximum .
Recipe for 2 persons.
Ingredients
4 Eggs (8.4 oz)
1 Tomato (7 oz)
1 Serrano Pepper (.4 oz)
1/4 of an Onion (1.2 oz)
1 tablespoon Olive Oil
1/4 tablespoon of Salt
Cookware
1 Frying Pan
1 Bowl
1 Chopping Board
1 Balloon Whisk or Fork
1 Turner
1 Knife
Directions
Chop Ingredients
Remove the seeds and the veins of 1 serrano pepper.
| | | |
| --- | --- | --- |
| | If you want more hotness in your dish leave the serrano pepper veins. | |
Finely chop the serrano pepper with the one you worked, then reserve.
Dice 1/4 of an onion and 1 tomato; then set aside.
Fry some Ingredients
Crack 4 eggs and pour them in a bowl.
| | | |
| --- | --- | --- |
| | It is very important to pour the eggs in a bowl in case that an eggshell piece falls, it will be very easy to remove it. | |
Beat the eggs that were put in the bowl with a balloon whisk or with a fork, until they are well integrated; then set aside.
Heat in a frying pan over medium heat 1 tablespoon of olive oil.
Put in the frying pan the onion dices that were chopped and fry them for approximately 1 minute, until they look a bit transparent; stir regularly.
Incorporate in the frying pan:
The Serrano Pepper that was minced.
The Tomato dices that were cut.
Mix the frying pan ingredients and fry them for approximately 1 minute, until the chili and the tomato are lightly fried; stir regularly.
Fry the Mexican Style Eggs
Reduce to low heat and pour in the frying pan the eggs that were beaten in the bowl.
Also add in the frying pan 1/4 tablespoon of salt.
Mix all the frying pan ingredients and fry the Mexican style eggs for about 2 minutes, until the eggs are well cooked; stir regularly.
A Delicious
– Mexican Breakfast –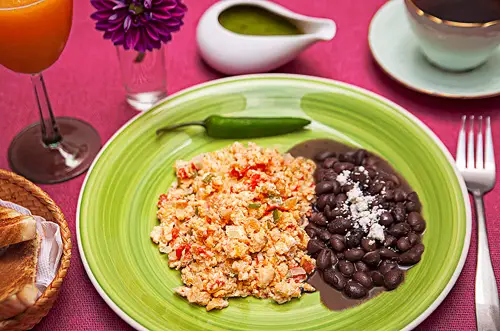 Suggestion:
Accompany
the Mexican style eggs with
tortillas
or
bread.
Variation:
You also have to try the
ranch style eggs.
Tweet
Did you like the Mexican Style Eggs?
Other Typical Mexican Dishes that you will Love
✒
Red Chilaquiles
✒
Spicy Cecina
✒
Pork in Adobo
✒
Swiss Enchiladas
✒
Veracruz Style Fish