Home >> Salsas and Dips >>
Lima and
Coriander Salsa
This is a
very special
salsa because it is a citrus salsa, which are not very common. The lima has a formidable flavor since it is sweet but its citrus touch can also be felt. And on the other hand we have the freshness of the
coriander
that complements very well with the lima.
But
this salsa has more charms
because it is a bit spicy and more ingredients are used that help to elaborate the flavor of the whole preparation. Although the best part of the salsa is that it is creamy. With a salsa of this characteristics the
fishes
and the shellfish are the perfect foods in which it can be used.
About the Recipe
This preparation has few steps and it is very easy to make.
The lima cannot be substituted for any other citrus because the salsa will ruin.
In less than the salsa will be ready.
The recipe is for 1½ cups.
Ingredients
1 Lima (1.7 oz)
5 Coriander sprigs (1.7 oz)
1 Jalapeno Pepper (.5 oz)
1/4 of an Onion (1.2 oz)
1 Garlic clove (.1 oz)
1 cup of Mexican Cream (8.4 fl oz)
2 tablespoons of Mayonnaise
Pepper to taste
1/4 tablespoon of Salt
Cookware
1 Blender
1 Bowl
1 Cutting Board
1 Mixing Spatula
1 Knife
1 Orange Squeezer (optional)
Directions
Remove the veins and the seeds of 1 jalapeno pepper, upon completion put it in a blender.
| | | |
| --- | --- | --- |
| | If you want a spicier salsa don't remove the veins nor the seeds of the chili. | |
Also add in the blender:
The juice of 1 Lima.
5 Coriander sprigs.
1/4 of an Onion.
1 Garlic clove.
1 cup of Mexican Cream.
Pepper to taste.
1/4 tablespoon of Salt.
Blend very well the ingredients.
Transfer from the blender to a bowl the mixture that was blended.
Add in the bowl 2 tablespoons of mayonnaise.
| | | |
| --- | --- | --- |
| | The mayonnaise is not blended with the other ingredients so its consistency doesn't ruin. | |
Mix very well the lima salsa with a mixing spatula.
A Citrus Salsa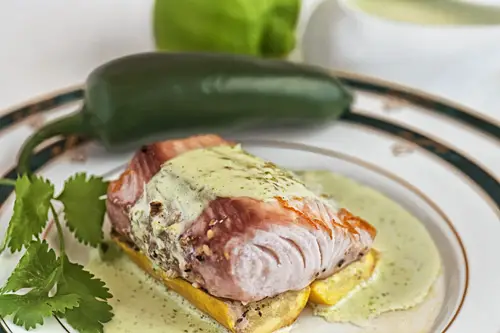 *
This salsa will
last
about 3 days in the fridge.
Recommendation:
Would you like to try the
lima soup
?
Did you like the Lima Salsa?  
Mexican Fishes and Shellfish
✔
Shrimps to the Vinaigrette
✔
Crab Tostada
✔
Ceviche
✔
Shellfish Soup
✔
Veracruz Style Fish