Home >> Appetizers >>
Huitlacoche Quesadilla
"Mexican Gastronomy"
The huitlacoche is
the fungus that grows on the ear of corn
. It is curious but in many countries they don't know that the huitlacoche is edible and that it is a
"Delicacy of the Mexican Cuisine"
. If you have never tried it this is your chance, don't miss it.
| | | |
| --- | --- | --- |
| | The huitlacoche was eaten since the time of the Mexicas and we rather don't give you the definition of the word huitlacoche, we think that you are not going to like it ;) | |
Now let's talk about the
quesadillas
. In case that you don't know them they are
tortillas
that are folded in half and in the middle melted cheese is put.
In this occasion the quesadillas
will also have a delicious filling
of
huitlacoche
with
epazote
and
onion
; which you will not like, it will fascinate you.
This is an excellent dish to serve as an
appetizer
, because it prepares the palate to enter into the
World of the Mexican Flavors
.
About the Recipe
To make the huitlacoche quesadillas you have to follow some very simple steps like chop, fry and heat. You won't have any problem with this recipe.
Use a cheese that melts to make the quesadillas like:

Oaxaca Cheese
Manchego Cheese
Chihuahua Cheese




In some seasons of the year it is difficult to find the huitlacoche. If you don't find it fresh you can also buy it canned.
As it was mentioned before, in this recipe epazote is also used. The only problem is that it is difficult to find. But make all what is possible to get it you won't regret.
The quesadillas will be ready in . The recipe is for 6 quesadillas.
Ingredients
5.3 oz of Cheese that Melts
3.5 oz of Huitlacoche
6 Maize Tortillas
1/4 of an Onion
1 Epazote sprig
1/2 tablespoon of Olive Oil
Salt to taste
Cookware
1 Skillet
1 Griddle
1 Chopping Board
1 Turner
1 Knife
Directions
Chop Ingredients
Cut 5.3 oz of cheese that melts into strips, then set aside.
Finely chop 1/4 of an onion and 1 epazote sprig; then set aside.
Cook the Huitlacoche
Heat in a skillet over medium heat 1/2 tablespoon of olive oil.
Put in the skillet the chopped onion and fry it for approximately 1 minute, until it looks a bit transparent; stir regularly.
Incorporate in the skillet:
3.5 oz of Huitlacoche.
The minced Epazote.
Salt to taste.
| | | |
| --- | --- | --- |
| | The epazote is used to give a very Mexican touch and flavor to the quesadillas. | |
Mix all the ingredients and fry them for about 3 minutes, until the huitlacoche is cooked; stir regularly. Then set aside.
The Huitlacoche Quesadillas
Heat on a griddle over medium heat 6 corn tortillas on both sides.
On each tortilla put:
Some Cheese strips that were cut.
Some of the Huitlacoche that was cooked.
Fold the tortillas in half and heat the quesadillas on both sides for about 3 minutes, until the cheese has melted.
| | | |
| --- | --- | --- |
| | While the quesadillas are heated you can press them gently so the filling unites and they will heat faster. | |
A Mexican Delicacy!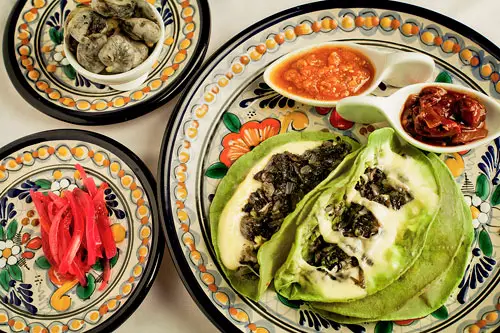 .
.