Home >> Salsas and Dips >>
Chipotle and Coriander
Dressing
If you are looking forward to put a spicy, smoky and aromatic touch to your snacks or
antojitos.
Make sure to try this delicious chipotle and cilantro dressing.

The chipotle pepper was used since Prehispanic times. In the Nahuatl language
chilpoctli
means "smoked chili". And to prepare this dressing you will need a chipotle pepper in adobo, that you will find canned in any supermarket.

The mixture of cream with milk, that is used in this preparation, gives a very creamy consistency to the dressing and it attenuates the chili's hotness. The fresh coriander also helps to moderate the chile's hotness and it gives a very aromatic and fresh touch to the preparation.

The final result is an appetizing chipotle and coriander dressing that will give
a smoky, spicy and refreshing touch to your favorite dishes
.
About the Recipe
This recipe is really very simple to prepare.
The milk that is used in this recipe can be whole, skimmed, lactose-free, light, etc. Any type of milk that you have will go perfect with the dressing.
Remember that the chipotle pepper has to be in adobo and canned or if preferred you can prepare it.
In just your dressing will be ready.
Yields 8 portions.
Ingredients
1 Chipotle Pepper in Adobo (.3 oz)
3 Coriander sprigs (1 oz)
1 cup of Mexican Cream (8.4 fl oz)
1/2 cup of Milk (4.2 fl oz)
Pepper to taste
1/4 tablespoon of Salt
Cookware
1 Blender
1 Chopping Board
1 Knife
Directions
Separate of 3 coriander sprigs the leaves from the stalks. Upon completion discard the stalks.
Finely chop the coriander leaves that were separated and put them in a blender; then reserve.
Remove the seeds from 1 chipotle pepper in adobo.
| | | |
| --- | --- | --- |
| | The chipotle pepper seeds don't give a good texture to the dressing that's why they have to be removed. | |
Finely chop the chipotle pepper in adobo with the one you worked and then put it in the blender.
Also put in the blender:
1 cup of Mexican Cream.
1/2 cup of Milk.
Pepper to taste.
1/4 tablespoon of Salt.
Blend very well the ingredients.
Typical and Delicious
Mexican Dressing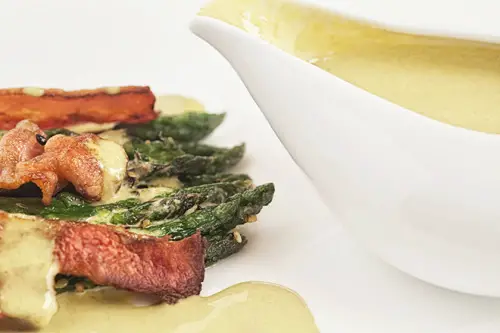 Tip:
To reduce the hotness of this dressing
accompany
it with a refreshing Mexican
drink.
Variation:
You can also use this dressing as a dip and accompany it with some tasty
tortilla chips.
Tweet
Did you like the Dressing?