Home >> Salsas and Dips >>
Mandarin
Pico de Gallo
The
pico de gallo
salsa is a perfect preparation to make good use of almost any
fresh ingredient
that we have in the fridge.

With a base of tomato, onion and chili – the possible combinations are almost limitless. In this recipe
mandarin is added that gives a sweet and citrus exquisite flavor, which counters with the freshness of the cucumber and the jicama
(other very interesting ingredients that are used in the recipe). In this way the mandarin pico de gallo fills of unique flavors and textures.

It is a perfect recipe to accompany a grilled
fish
, a grilled
chicken
breast or almost any dish with
pork.
But it can also serve us as snack next to some
garlic shrimps.
About the Recipe
To make the pico de gallo you are only going to work a bit but everything is easy to make.
The mandarin has to be cut in a very special way, we recommend using a small and sharp knife.
The mandarin is a winter fruit therefore from November to February is the best time to prepare the salsa.
Use extra virgin olive oil so the salsa will have a better flavor.
The preparation time is of .
With this recipe you will get 2 cups.
Ingredients
1 Mandarin (5.9 oz)
1 Serrano Pepper (.4 oz)
1 Tomato (7 oz)
1 Lime (1 oz)
1/2 Cucumber (5.6 oz)
1/4 of a Jicama (2.6 oz)
1/2 Red Onion (2.6 oz)
1 Coriander sprig (.3 oz)
3 tablespoons of Extra Virgin Olive Oil
1/2 tablespoon of Salt
Cookware
2 Bowls
1 Chopping Board
1 Balloon Whisk or Fork
1 Mixing Spatula
1 Peeler
1 Knife
1 Lime Squeezer (optional)
Directions
Cut Many Ingredients
Dice 1/2 red onion and 1 tomato; upon completion put them in a bowl and reserve.
Finely chop 1 serrano pepper and 1 coriander sprig; then pass them to the bowl and reserve.
| | | |
| --- | --- | --- |
| | If you want a less spicy pico de gallo, remove the seeds and the veins of the serrano pepper. | |
Peel 1/4 of a jicama.
Dice the jicama that was peeled, put them in the bowl and reserve.
Peel 1/2 cucumber, cut it lengthwise and remove its seeds.
Dice the cucumber with the one you worked, put them in the bowl and reserve.
Work with the Mandarin
Peel 1 mandarin, making sure of removing the pith, then separate the segments.
Remove the skin and the seeds of the mandarin segments that were separated.
Cut into small chunks the mandarin segments with the ones you worked and put them in the bowl with the other ingredients; then set aside.
Mix the Ingredients
Put in another bowl:
The juice of 1 Lime.
3 tablespoons of Extra Virgin Olive Oil.
1/2 tablespoon of Salt.
Beat the bowl ingredients with a balloon whisk or with a fork, until they are well integrated.
Pour the dressing that was beaten in the bowl over the other bowl, where the mandarin pico de gallo is.
Mix very well the mandarin pico de gallo with a mixing spatula.
A Very Original Recipe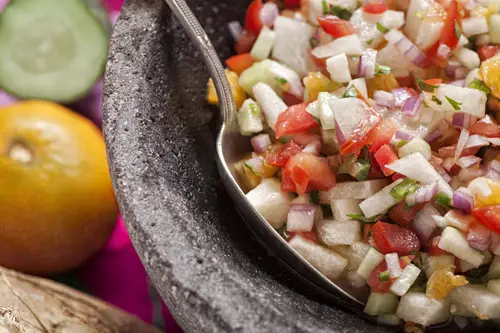 Recommendation:
If you put some lettuce leaves to this salsa it will
transform
into a healthy and exquisite
salad.
Variation:
The pico de gallo can also be prepared with
tomatillo.
Tweet
Did you like the Mandarin Pico de Gallo?
Fresh Mexican Recipes
★
Beef Salpicon
★
Shrimps to the Vinaigrette
★
Vegetarian Ceviche
★
Crab Tostada
★
Tuna Salad