Home >> Salsas and Dips >>
Pomegranate
Guacamole
This
guacamole
is worthy of a special occasion or of a celebration because with our star ingredient, the "pomegranate seeds" –
the guacamole fills with color, freshness and elegance
. Also a sensation of surprise is created when the crispy texture of the pomegranate is felt in each bite.

Although this guacamole contains
more surprises
as you will find notes that are spicy, soft, sour and even an aniseed touch – since Mexican pepperleaf is used in its preparation. This guacamole is really a whole experience!

When you serve the pomegranate guacamole in parties, accompany it with some
tortillas chips
or with some
tostadas
or with
bread
so everyone can enjoy it in a quick and simple way.
About the Recipe
In this recipe basically first you have to work with some ingredients and then everything is mixed, you won't have any complication.
The Mexican pepperleaf is used in this guacamole to perfume it and give an aniseed touch. Unfortunately this leaf is difficult to get, in case of not having it just leave it out.
We give the recipe with avocado oil because as it can be imagined it perfectly mixes with the avocado. If you don't have this oil olive oil or vegetable oil could also be used.
Only are needed to have this guacamole ready on the table.
This recipe is given for 2 cups.
Ingredients
4 Avocados (2.2 lbs)
1 Pomegranate (10.5 oz)
1 Serrano Pepper (.5 oz)
1 Tomato (5.2 oz)
1 Lime (1 oz)
1/4 Onion (1.2 oz)
1 Mexican Pepperleaf (.3 oz)
1 tablespoon of Avocado Oil
1/4 tablespoon of Salt
Cookware
1 Frying Pan
1 Bowl
1 Chopping Board
1 Turner
1 Mixing Spatula
1 Knife
1 Fork
1 Paper Towel
1 Lime Squeezer (optional)
Directions
Work with Some Ingredients
Remove the seeds of 1 pomegranate and reserve them.
Dice 1/4 onion and 1 tomato; then set aside.
Discard the seeds and the veins of 1 serrano pepper.
Finely chop the serrano pepper with the one you worked and reserve it.
Fry the Mexican Pepperleaf
Heat in a frying pan over low heat 1 tablespoon of avocado oil.
Incorporate in the frying pan 1 Mexican pepperleaf and fry it for about 20 seconds per each side, until it is lightly fried.
Transfer from the frying pan to a paper towel the Mexican pepperleaf that was fried, so it dries and the fat excess is absorbed.
Finely chop the Mexican pepperleaf that was dried and reserve.
Mix the Ingredients
Scoop out the pulp of 4 avocados and put it in a bowl; reserve 1 avocado pit.
Mash with a fork the avocados' pulp that was put in the bowl, until having the consistency of a puree.
Also add in the bowl:
The Pomegranate Seeds that were reserved.
The Onion dices that were cut.
The Tomato dices that were cut.
The Serrano Pepper that was minced.
The Mexican Pepperleaf that was minced.
The juice of 1 Lime.
1/4 tablespoon of Salt.
Mix very well the bowl ingredients with a mixing spatula.
Insert in the pomegranate guacamole, the avocado pit that was reserved.
| | | |
| --- | --- | --- |
| | The avocado pit serves to preserve the pomegranate guacamole for a longer time. | |
Sweet and Refreshing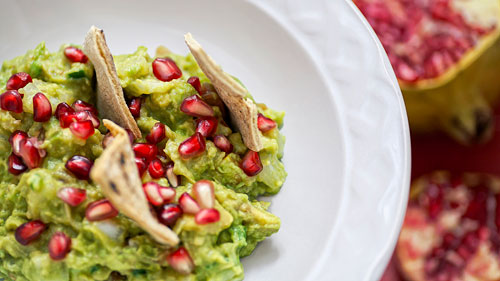 Tip:
In Mexico
the best season
to prepare this guacamole is from July to October because it is the pomegranate season.

Variation:
Add some requeson or panela cheese in dices over the guacamole and besides enhancing the recipe, you will get a "flag dish" for your celebrations.

Tweet
Did you like the Guacamole?
Keep Cooking Mexican Food
↣
Chilakil from the Southeast
↣
Mexican Rice
↣
Huitlacoche Quesadilla
↣
Horchata Water
↣
Bananas with Cream and Cinnamon