Arrachera
"a sensational cut"
The arrachera is a
beef cut that comes from the diaphragm of the cow
. This meat is thick, a little bit harder than other cuts, of strong flavor and very juicy. Although with a proper preparation, the arrachera can result
delicate
and
tender
.
...and in order to obtain this result we are going to reveal you the secret, which consists of
marinating the beef in a proper way
. It is funny but at the moment of marinating the beef, each person uses their own "secret marinating recipe". Here we will give you the recipe that we consider that gives the best Mexican flavor to the arrachera.
You cannot serve this beef alone on a plate,
you have to put garnishes
so the dish looks spectacular. You can use one of these garnishes or the combination of many like: grilled spring onions, roasted nopal,
mixed salad
,
quesadillas
,
guacamole
,
refried beans
,
Mexican rice
,
fought chilies
, etc.
– The arrachera is an ideal beef to prepare with friends on a grill at your backyard or in a picnic day.
About the Recipe
Making this recipe is very easy as you only have to marinate and fry the beef.
In this recipe the arrachera is fried in a frying pan but you can also fry it on a grill, just make sure to smear a little oil on the grill.
In the ingredients you will see many acid ingredients which are necessary to tenderize the beef.
To prepare the arrachera first it is marinated for about
Recipe for 4 persons.
Ingredients
1.1 lbs of Flank Steak
2 Oranges (17.6 oz)
1 Lime (1 oz)
1/2 tablespoon of Oregano
4 tablespoons of Soy Sauce
2 tablespoons of Worcestershire Sauce
4 tablespoons of Vegetable Oil
1/2 teaspoon of Pepper
Cookware
1 Frying Pan
1 Food Container with Lid
1 Bowl
1 Chopping Board
1 Balloon Whisk or Fork
1 Turner
1 Knife
1 Orange Squeezer (optional)
1 Lime Squeezer (optional)
Directions
Prepare the Marinade
Clean 1.1 lbs of flank steak and cut it into fillets; upon completion place the fillets in a food container and reserve.
Add in a bowl:
The juice of 2 Oranges.
The juice of 1 Lime.
1/2 tablespoon of Oregano.
4 tablespoons of Soy Sauce.
2 tablespoons of Worcestershire Sauce.
1/2 teaspoon of Pepper.
Beat the bowl ingredients with a balloon whisk or with a fork, until they are well integrated.
Pour the mixture that was prepared in the bowl over the flank steak fillets that were cut.
Cover the food container, put it in the fridge and leave the arrachera marinating for a minimum of 2 hours.
| | | |
| --- | --- | --- |
| | The arrachera is marinated covered so the fridge temperature won't dry it. | |
Fry the Arrachera
Take the arrachera from the fridge and reserve it.
Heat in a frying pan over high heat 1 tablespoon of vegetable oil.
Put in the frying pan the arrachera fillets that fit in and fry them on both sides for about 6 minutes, until they are well cooked or to the level of doneness that you like the most; then serve them.
Repeat the same procedure with the remaining arrachera fillets, it will be necessary to add more vegetable oil.
"What an Arrachera Dish"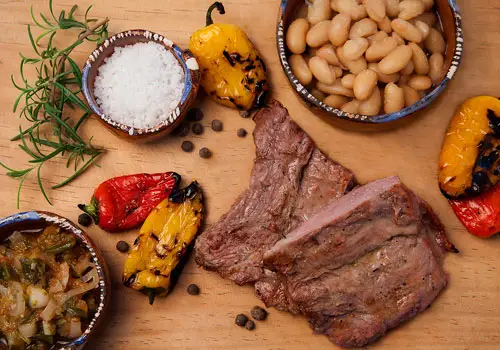 handy.