Home >> Salsas and Dips >>
Avocado Butter
You possibly didn't know but the butter is not of Mexican origin. Its true origin is unknown but is possible that it comes from the Vikings, the Celts or the Mongols. And just as this and many other recipes it was brought to Mexico by the Europeans and it was adapted to the local cuisine.

The best way of adapting the butter to a Mexican context is with "the avocado". The beauty of this combination is that
both ingredients are soft and creamy
. Although the recipe goes further because it is also aromatized with coriander and is seasoned with some ingredients. The flavor that is obtained is extraordinary and we are sure that you will use it in many occasions.

The uses of the avocado butter are
multiple
, like any other butter it can be enjoyed with
bread
and if you want this mouthful to be very sophisticated you can add small pieces of smoked salmon. It can also be used to aromatize grilled fish, when the plate is served add a layer of this butter over the
fish
and your diners will love it.
About the Recipe
This preparation is very simple, anyone can make it.
To make this butter we recommend using a good quality butter.
Preferably buy unsalted butter so you season it to taste.
The preparation time is of and then the butter is refrigerated for 1 hour.
With this recipe you will get 1 cup of butter.
Ingredients
1 Avocado (8.8 oz)
1 Butter bar (4.9 oz)
1 Lime (1.1 oz)
2 Coriander sprigs (.7 oz)
Pepper to taste
1/4 tablespoon of Salt
Cookware
1 Blender
1 Cutting Board
1 Knife
1 piece of Food Wrap Film
1 Lime Squeezer (optional)
Directions
Put in a blender:
The pulp of 1 Avocado.
1 Butter bar.
The juice of 1 Lime.
2 Coriander sprigs.
Pepper to taste.
1/4 tablespoon of Salt.
| | | |
| --- | --- | --- |
| | The lime is used so the avocado doesn't oxidize so quickly. | |
Blend very well the ingredients.
Pour over a piece of food wrap film the mixture that was blended.
Roll the piece of food wrap film with the avocado butter and then fold the food wrap film ends inwards.
Put in the fridge the avocado butter and leave it resting for approximately 1 hour, until it acquires a firm consistency.
Soft and Creamy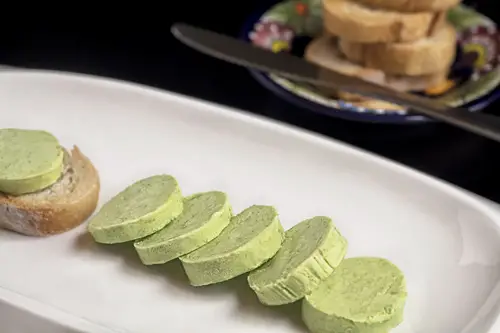 *
The avocado is very perishable and this butter will only
last
2 days.

Variation:
There is a dip that is also prepared with
avocado.
Tweet
Did you like the Butter?
Guacamoles
❆
Walnut Guacamole
❆
Manzano Pepper Guacamole
❆
Pomegranate Guacamole
❆
Corn Guacamole
❆
Watermelon Guacamole