Home >> Salsas and Dips >>
Banana Pepper
Guacamole
We do not exaggerate by affirming that the
guacamole
is without a doubt the most popular dip of the World. And for this reason there are countless
variations
of the recipe.

In this occasion we are going to prepare an exquisite guacamole with banana pepper, that will result just as good as the traditional but
with the aromatic, fine and tasty touch of this chili
.

Besides using banana peppers also parsley is used to enhance the fresh and different flavor that this guacamole provides – it also gives an intense and persistent aroma.

The banana pepper guacamole is a perfect snack for any reunion, accompanied of some
tortilla chips
or simply to enrich some
quesadillas.
About the Recipe
The preparation of this guacamole is very simple.
It is very important to use the juice of the lime in the guacamole so the avocado doesn't oxidize.
The parsley sprig that is used in the recipe has to be fresh so the guacamole has more flavor, freshness and aroma.
This guacamole can also be prepared in a molcajete and you will feel the true Mexican tradition.
Only will be needed for this preparation.
It will yield 2 cups.
Ingredients
4 Avocados (2.2 lbs)
2 Banana Peppers (4.4 oz)
1 Tomato (5.2 oz)
1/2 Lime (.5 oz)
1/4 of an Onion (1.2 oz)
1 Parsley sprig (.3 oz)
1/2 tablespoon of Salt
Cookware
1 Bowl
1 Cutting Board
1 Mixing Spatula
1 Knife
1 Fork
1 Lime Squeezer (optional)
Directions
Cut Ingredients
Separate from 1 parsley sprig the leaves from the stalks and discard the stalks.
Finely chop the parsley leaves that were separated, then reserve.
Remove the seeds and the veins of 2 banana peppers.
Dice the 2 banana peppers with the ones you worked, 1/4 of an onion and 1 tomato; then set aside.
Mix the Ingredients
Scoop out the pulp of 4 avocados and put it in a bowl; reserve 1 avocado pit.
Mash with a fork the avocados' pulp that was put in the bowl, until having the consistency of a puree.
Also add in the bowl:
The Parsley leaves that were minced.
The dices of the Banana Peppers that were cut.
The Onion dices that were cut.
The Tomato dices that were cut.
The juice of 1/2 Lime.
1/2 tablespoon of Salt
Mix very well the bowl ingredients with a mixing spatula.
Insert in the banana pepper guacamole, the avocado pit that was reserved,
| | | |
| --- | --- | --- |
| | The avocado pit serves to preserve the banana pepper guacamole for a longer time. | |
A Tasty and Refreshing
Guacamole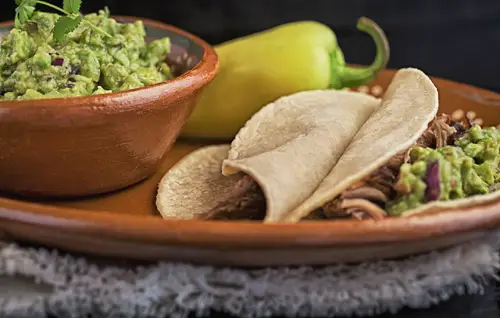 Tip:
Preferably serve
immediately
the guacamole so it will be fresh and full of flavor.

Variation:
The guacamole can also be prepared with
corn
, which turns it sweet and crunchy.

Tweet
Did you like the Guacamole with Chilies?
Other Mexican Recipes
✦
Chorizo with Potato Tostada
✦
Machaca with Egg
✦
Cream of Bean Soup
✦
Beef Burrito
✦
Tacos al Pastor