Home >> Salsas and Dips >>
Habanero Pepper
and Pineapple Salsa
This salsa is similar to the
X-Ni-Pek
, in fact we believe that it sprouted as a
variation
thereof. It is a Yucatecan salsa that holds many secrets because is difficult to imagine the flavor that is obtained by combining the habanero pepper and the pineapple.

And the flavor of the whole preparation becomes even more difficult to imagine due to all the other ingredients that are used. It definitely is
a salsa that has very different flavors
it is also spicy and fruity – but the best part is that it is seasoned with basil, which gives an important turn to the whole preparation.

Whenever you have some Yucatecan
appetizers
on the table... that is the moment of using this salsa. Although their applications don't stop there because it can also be enjoyed with snacks,
tortilla chips
,
tostadas
, etc. And if you want to use it in a dish opt for the cochinita pibil or a
chicken adobo.
About the Recipe
The preparation of this salsa is quite simple.
We don't recommend using pineapple in syrup because it is too sweet for this salsa.
To make the salsa bell pepper is used and we recommend using the red one due to the color and flavor that it will give to your salsa – just don't use the green one because it doesn't have the sweetness point that is required for the salsa.
In about the salsa will be ready.
The recipe yields 2 cups.
Ingredients
1 Habanero Pepper (.3 oz)
1 Pineapple slice without skin nor core (3.5 oz)
1 Tomato (7 oz)
1 Lime (1 oz)
1/2 Red Bell Pepper (2.6 oz)
1/4 of a Red Onion (1.2 oz)
2 Basil sprigs (.7 oz)
1/4 tablespoon of Salt
Cookware
1 Bowl
1 Cutting Board
1 Mixing Spatula
1 Knife
1 Lime Squeezer (optional)
Directions
Remove the seeds and the veins of 1/2 red bell pepper and 1 habanero pepper; then set aside.
| | | |
| --- | --- | --- |
| | If you want a spicier salsa don't remove the seeds nor the veins of the habanero pepper. | |
Dice the red bell pepper with the one you worked, 1 pineapple slice without skin nor core and 1 tomato. Upon completion put them in a bowl and reserve.
Finely chop the habanero pepper with the one you worked, 1/4 of a red onion and 2 basil sprigs. Upon completion put them in the bowl.
Also add in the bowl:
The juice of 1 Lime.
1/4 tablespoon of Salt.
Mix very well the habanero pepper and pineapple salsa with a mixing spatula.
Some Amazing Flavors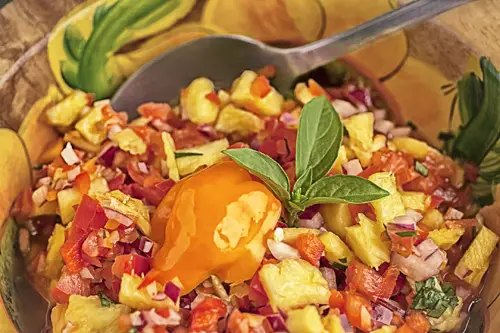 Tip:
If you want you can also
add
to the salsa the juice of 1/2 bitter orange to give it a delicious touch.

Variation:
Habanero salsa.
Tweet
Did you like the Habanero Pepper Salsa?
Mexican Appetizers
✏
Mexican Rice
✏
Devil Shrimps
✏
Crab Tostada
✏
Sincronizadas
✏
Charro Beans