Home >> Salsas and Dips >>
Peppers with Lime
a great combination
This recipe is originally from Oaxaca since the chili that is used in the preparation only abounds in Oaxaca and it is known as
water chili
. It is a similar chili to the Poblano pepper but smaller; it is also fleshy, it has a light green color and it is quite spicy.

The recipe is simple, it only consists of
mixing the water chilies with onion to later dress them with lime and more ingredients
. This combination is strong, similar to a
pickle
but fresher. It is perfect to accompany from a
white rice
up to a
grilled steak.
About the Recipe
In this recipe the chilies are going to be roasted in a very different way, then everything is easy to make.
The peppers with lime are prepared with water chilies, if you don't find them they can be substituted for manzano peppers.
As part of the ingredients white onion or red onion can be used; is indifferent.
The preparation is of and then the peppers with lime must be left resting for 4 hours.
The recipe is for 1½ cups.
Ingredients
6 Water Chilies (10.5 oz) or 8 Manzano Peppers (10.5 oz)
6 Limes (6.3 oz)
1 Onion (5.2 oz)
1 tablespoon of Oregano
1/4 tablespoon of Salt
Cookware
1 Griddle
1 Bowl
1 Cutting Board
1 Tongs
1 Mixing Spatula
1 Knife
1 Plastic Bag
1 piece of Food Wrap Film
1 Lime Squeezer (optional)
Directions
Work with the Chilies
Put on a griddle over medium-high heat 6 water chilies or 8 manzano peppers and roast them for about 4 minutes, until all their sides are moderately roasted; move them regularly with some tongs.
Transfer from the griddle to a plastic bag, with the tongs, the chilies that were roasted.
Close the plastic bag and leave the chilies resting for about 5 minutes, until the bag sweats.
| | | |
| --- | --- | --- |
| | All this ritual ;) that is made with the chilies is to make them have a more intense flavor. | |
Take from the plastic bag the chilies and rinse them while removing the outer skin of the chilies (the burned part).
Discard the seeds and the veins of the chilies that were rinsed.
Cut into strips the chilies with the ones you worked and 1 onion; upon completion put them in a bowl.
Mix All the Ingredients
Also add in the bowl, along with the other ingredients:
The juice of 6 Limes.
1 tablespoon of Oregano.
1/4 tablespoon of Salt.
Mix very well the peppers with lime with a mixing spatula.
Cover the bowl with a piece of food wrap film.
Put the bowl in the fridge and leave the peppers with lime resting for 4 hours, so the flavors settle.
Some Very Tasty
Peppers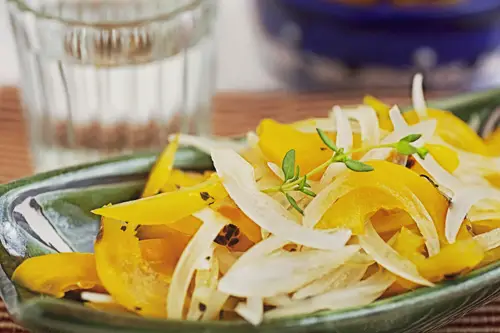 *
These peppers can
last
in the fridge for 1 week without any problem.

Variation:
The
white pickled
is a similar preparation to this one, it is of Yucatecan origins and it is prepared with banana peppers.

Tweet
Did you like the Recipe?
Mexican Salsas
❦
Puebla Style Pipian
❦
Ancho Pepper Adobo
❦
Mole from Guerrero
❦
Tomatillo Pico de Gallo
❦
Steak Recado