Home >> Salsas and Dips >>
Tomatillo Salsa
acidic and piquant
This is a
basic
recipe of the Mexican
cuisine.
It is very similar to the green salsa and we are sure that at some point you have tried or you have heard talking about the green salsa.

The difference that the tomatillo salsa has with the
green salsa
, is that more tomatillos and more chilies are used in its preparation therefore
its freshness, acidity and hotness increase
. Moreover the preparation technique is curious because 2 cooking stages are performed to mix well the flavors.

The tomatillo salsa is perfect for having it always fresh in the fridge because it can be used in endless preparations like in
appetizers
,
eggs
,
tacos
, etc. It can even be used for snacking.
About the Recipe
The preparation technique that is used to make the salsa is very simple.
The recipe is made with 6 serrano peppers and it is spicy, if you want to decrease the spiciness just use 3.
When the tomatillos are bought pick the ones that are hard and that have an intense green color because this indicates that they are ripe.
will be enough to make the salsa.
We give the recipe for 2 cups of salsa.
Ingredients
10 Tomatillos (1.1 lbs)
6 Serranos Peppers (2.5 oz)
1 Garlic clove (.1 oz)
2 Coriander sprigs (.7 oz)
2 tablespoons of Olive Oil
1/2 tablespoon of Salt
Cookware
1 Saucepan
1 Blender
1 Measuring Cup
1 Kitchen Spoon
1 Turner
Directions
Perform some Activities
Put in a saucepan:
10 Tomatillos.
6 Serrano Peppers.
The enough Water to cover all the ingredients.
Bring the saucepan water to a boil over high heat.
Leave the ingredients cooking in the boiling water for about 5 minutes, until the tomatillos turn to a lighter color.
| | | |
| --- | --- | --- |
| | Don't cook the tomatillos for a long time, because its skin breaks and its flavor becomes bitter. | |
Transfer from the saucepan to a blender, with a kitchen spoon, all the ingredients that were cooked.
Also add in the blender:
1 Garlic clove.
2 Coriander sprigs.
1/3 of a cup of Water (2.8 fl oz).
| | | |
| --- | --- | --- |
| | Preferably use the water where the tomatillos and the chilies were cooked because it has more flavor. | |
Blend very well the ingredients.
Cook the Salsa
Heat in the saucepan over medium heat 2 tablespoons of olive oil.
Add in the saucepan:
The Mixture that was blended.
1/2 tablespoon of Salt.
Mix the saucepan ingredients and bring the tomatillo salsa to a boil over high heat.
When the tomatillo salsa boils reduce to low heat and cook it for about 6 minutes, until it acquires a more intense green color; stir occasionally.
For All the Preparations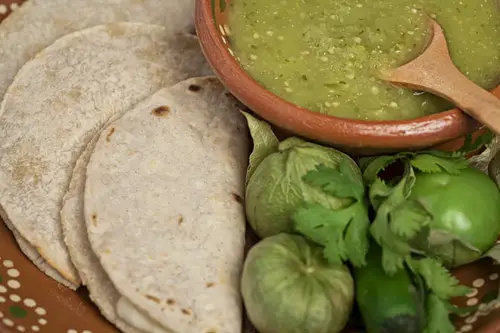 *
This salsa can
last
up to 10 days in the refrigerator.

Recommendation:
If you enjoyed the tomatillo's acidic taste also prepare the
tomatillo guacamole.
Tweet
Did you like the Tomatillo Salsa?
Mexican Recipes
✄
Mole from Xico
✄
Potato Quesadilla
✄
Red Chilaquiles
✄
Tuna Salad
✄
Red Menudo
{ezoic-ad-1}