Chorizo Burrito
what a flavor
The burrito consists of
a large flour tortilla that wraps diverse types of fillings
. Normally the filling is prepared with refried beans, cheese, some stew and many fresh ingredients like lettuce, tomato, avocado and more ingredients that the kids love.

The difference that we have in this burrito is that we are going to use chorizo as stew. With the chorizo a strong, elaborated and spiced flavor is obtained. It is also very nutritious and makes of this burrito a very complete meal.

– In Mexico the burritos are served at any hour of the day. But when they are served as main course they are normally
accompanied
with
rice
,
pot beans
,
mixed salad
or with your
favorite appetizer.
About the Recipe
Making the chorizo burrito is easy but it takes some time.
The original burritos are normally prepared with extra-large flour tortillas.
Prepare a homemade chorizo to give a very special flavor to your burritos.
Use asadero cheese in the burritos, it is the one that gives more flavor and best consistency to the burritos.
Total preparation time .
Recipe for 6 burritos.
Ingredients
14.1 oz Chorizo
1 cup of Refried Beans (7 oz)
1/2 cup of Grated Cheese that melts (3.5 oz)
6 Extra-Large Flour Tortillas (12.6 oz)
2 Avocados (17.6 oz)
2 Tomatoes (14.1 oz)
1/4 of a Lettuce (3.5 oz)
1/2 Onion (2.4 oz)
1/2 cup of Mexican Cream (4.2 fl oz)
1 tablespoon of Olive Oil
1/2 tablespoon of Salt
Cookware
1 Microwave
1 Frying Pan
1 Griddle
1 Chopping Board
1 Turner
1 Knife
1 Spoon
Directions
Cut and Fry
Cut into strips 1/4 of a lettuce, then reserve.
Dice 1/2 onion and 2 tomatoes; then set aside.
Finely chop 14.1 oz of chorizo and reserve.
Heat in a frying pan over medium-high heat 1 tablespoon of olive oil.
Put in the frying pan the onion dices that were cut and fry them for approximately 1 minute, until they look a bit transparent; stir regularly.
Incorporate in the frying pan the chorizo that was minced and fry it for about 4 minutes, until it is well cooked; stir regularly. Then set aside.
Make the Burritos
Cut 2 avocados into strips, then reserve.
| | | |
| --- | --- | --- |
| | The avocado is cut at the end because it oxidizes rapidly. | |
Heat in the microwave 1 cup of refried beans for approximately 1½ minutes, until they are well heated; then reserve.
Heat on a griddle over medium heat 1 extra-large flour tortilla for about 30 seconds per each side, until it is well heated.
Remove the tortilla from the griddle and smear on the tortilla's center, with a spoon, some of the refried beans that were heated. Also put on the tortilla the following ingredients in the same order as given:
Some Grated Cheese that melts.
Some of the Chorizo that was cooked.
Some dices of the Tomatoes that were cut.
Some strips of the Avocados that were chopped.
Some of the Lettuce strips that were chopped.
Some Mexican Cream.
1 pinch of Salt.
| | | |
| --- | --- | --- |
| | The cheese is placed in-between the warm beans and the warm chorizo so the heat of these 2 ingredients will melt the cheese. | |
Fold the tortilla ends inwards and then roll the chorizo burrito as taco; then serve it.
Repeat the same procedure with other 5 extra-large flour tortillas.
A Perfect Combination!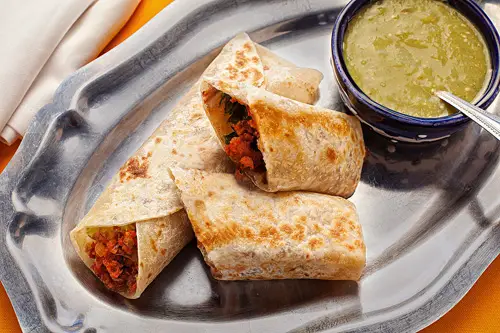 Suggestion:
Accompany your burritos with your
favorite
salsa
or even with some
pickled chilies.
Variation:
The chorizo can also be changed for
ground beef
,
chicken
,
grilled steak
, etc.

Tweet
Did you like the Burritos?
Other Mexican Recipes
✵
Garlic Shrimps
✵
Mexican Style Eggs
✵
Shredded Chicken Salad
✵
Red Menudo
✵
Green Vegetarian Pozole