Home >> Vegetarian >>
Vegetarian Burrito
As each time more and more people are opting for a
vegetarian
option in their diet. The Mexican
cuisine
, with centuries of tradition,
adapts
many of their most typical and popular dishes to this new current.

Such is the case of the vegetarian burritos that are a type of tacos filled with many ingredients, that are presented with the tortillas folded in a very special way. These burritos
are filled with beans, cheese, rice, tomato, lettuce and many more ingredients
that make this dish a delight.

The vegetarian burritos can be served at any hour of the day, in fact it is an excellent
breakfast.
If the burritos are served as main course they can be accompanied with some
appetizers
like:
fried plantains
,
potatoes with peppers
,
pickled onions
, etc. Or you can start with a
corn soup
and you will have a complete meal.
About the Recipe
To make the vegetarian burritos there are many easy steps to follow, you won't have any problem.
The rice that is used in these burritos is the white rice, which has to be cooked and ready. This rice can be prepared with us.
The burritos are prepared with extra-large flour tortillas of 9 to 11'' in diameter.
2 bell peppers are put to these burritos, from which combinations can be made by choosing the colors that you want.
The total preparation time is of .
Recipe for 6 vegetarian burritos.
Ingredients
3 cups of cooked White Rice (18.5 oz)
1 cup of Refried Beans (8.8 oz)
1/2 cup of Grated Cheese that melts (2.6 oz)
6 Extra-Large Flour Tortillas (12.6 oz)
2 Avocados (17.6 oz)
2 Tomatoes (14.1 oz)
2 Bell Peppers (11.6 oz)
1/2 cup of canned Golden Corn Kernels (3.5 oz)
1/4 of a Lettuce (3.5 oz)
1/2 Onion (2.6 oz)
1/2 cup of Mexican Cream (4.2 fl oz)
1 tablespoon of Olive Oil
Pepper to taste
1/2 tablespoon of Salt
Cookware
1 Microwave
1 Frying Pan
1 Griddle
1 Chopping Board
1 Turner
1 Knife
1 Spoon
Directions
Cut Ingredients
Dice 1/2 onion and 2 tomatoes; then set aside.
Remove the veins and the seeds of 2 bell peppers.
Cut into strips the 2 bell peppers with the ones you worked and 1/4 of a lettuce; then set aside.
Perform some Activities
Heat in a frying pan over medium heat 1 tablespoon of olive oil.
Put in the frying pan the bell pepper strips that were cut and fry them for about 3 minutes, until they are lightly fried; stir regularly. Then set aside.
Heat in the microwave 1 cup of refried beans and 3 cups of cooked white rice for about 3 minutes until they are well heated; then reserve.
Cut 2 avocados into strips, then reserve.
| | | |
| --- | --- | --- |
| | The avocados are cut at the end because they oxidize rapidly. | |
Make the Burritos
Heat on a griddle over medium heat 1 extra-large flour tortilla for about 30 seconds per each side until it is well heated.
Remove from the griddle the tortilla and smear on the tortilla's center, with a spoon, some of the refried beans that were heated.
Also put on the tortilla the following ingredients, in the same order as given:
Some Grated Cheese that melts.
Some of the White Rice that was heated.
Some of the strips of the Bell Peppers that were fried.
Some canned Golden Corn Kernels.
Some of the Onion dices that were cut.
Some of the dices of the Tomatoes that were cut.
Some of the strips of the Avocados that were cut.
Some of the Lettuce strips that were cut.
Some Mexican Cream.
Pepper to taste.
1 pinch of Salt.
| | | |
| --- | --- | --- |
| | The cheese is placed in-between the warm beans and the warm rice so the heat of these 2 ingredients will melt the cheese. | |
Fold the tortilla ends inwards and then roll the vegetarian burrito as taco.
Repeat the same procedure with other 5 extra-large flour tortillas.
– A Vegetarian Delight –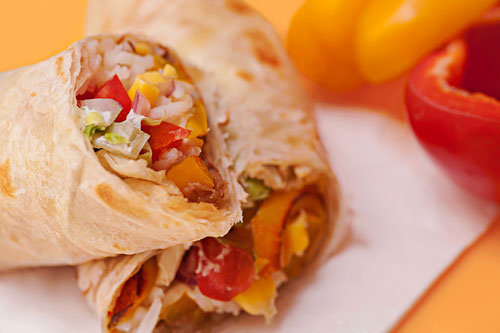 Recommendation:
A
salsa
has to be put to this burrito to give it
more flavor
, like a fresh
green salsa
or a spicy
red salsa with morita pepper.
Variations:
Burritos that are prepared with meat:
chicken burrito
,
grilled steak burrito
,
chorizo burrito
, etc.

Tweet
Did you like the Vegetarian Burrito?
Other Mexican Recipes that you will Like
►
Machaca with Egg
►
Nopal Cactus Salad
►
Shrimp Chilpachole
►
Fried Chicken Tacos
►
Pork in Adobo